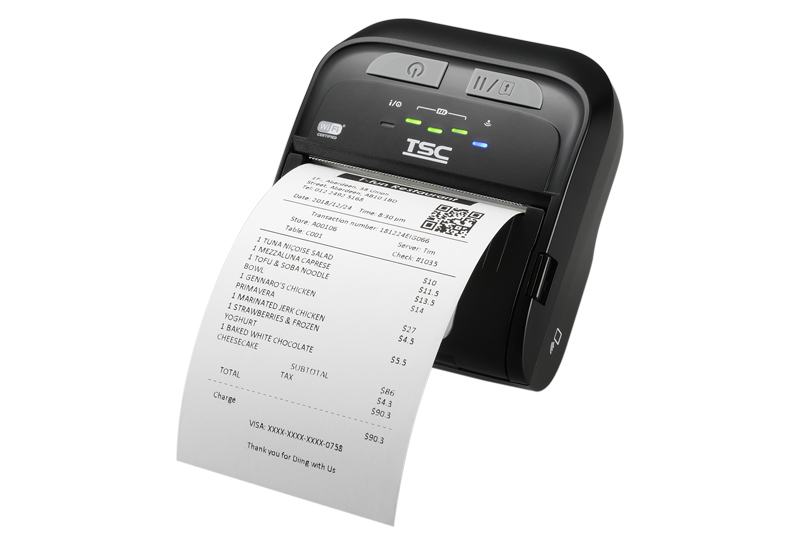 TSC TDM-30
The adjustable media hanger with label fixing tab allows for a variety of media widths between 20 mm and up to 75 mm. TDM-30 can handle media including receipts, selected labels and MaxStick linerless printing etc.
Self-Diagnostic TPH Care Mechanism
TSC TPH Care Mechanism offers an advanced level of auto-detection ensuring the real-time printhead health status. By scanning and detecting bad dots during the entire process of printing, it has been proven to stabilize high-quality printouts consistently and minimize the waste of consumables for maximum cost-effectiveness.
Smart Battery with TSC Printer Management
With TSC Battery Management System (BMS), it is easy to check battery status including
– Battery Health
• Effectively manage battery performance: charging state and capacity estimates
• Record history of battery usage and charge cycles
• Instantly report battery health status: prompt maintenance service request, error message, etc.
• Maximize battery lifetime and minimize the cost of battery replacement
– Battery Remaining Capacity
• Monitor battery capacity in real time and ensure completing a full shift to avoid downtime
Integrated Software Pack
TSC offers an advanced SW pack including practical solutions to effectively support TDM-30 for customized label creation from different platforms.
– OPOS and JPOS for POS application
– Compatible with CPCL and ESC-POS printer languages
– New developed iOS & Android APP enables:
– Via mobile configuration, workforce/user maximizes convenience on printer setting/status check/troubleshooting anywhere and anytime
– Web print supports direct printing from web browser-based applications
Multiple Connectivity
TDM-30 supports USB2.0 + MFi Bluetooth 5 + passive NFC tag or USB2.0 + coexist 802.11 a/b/g/n Wi-Fi + Bluetooth 4.2+ passive NFC tag.
RELATED PRODUCTS